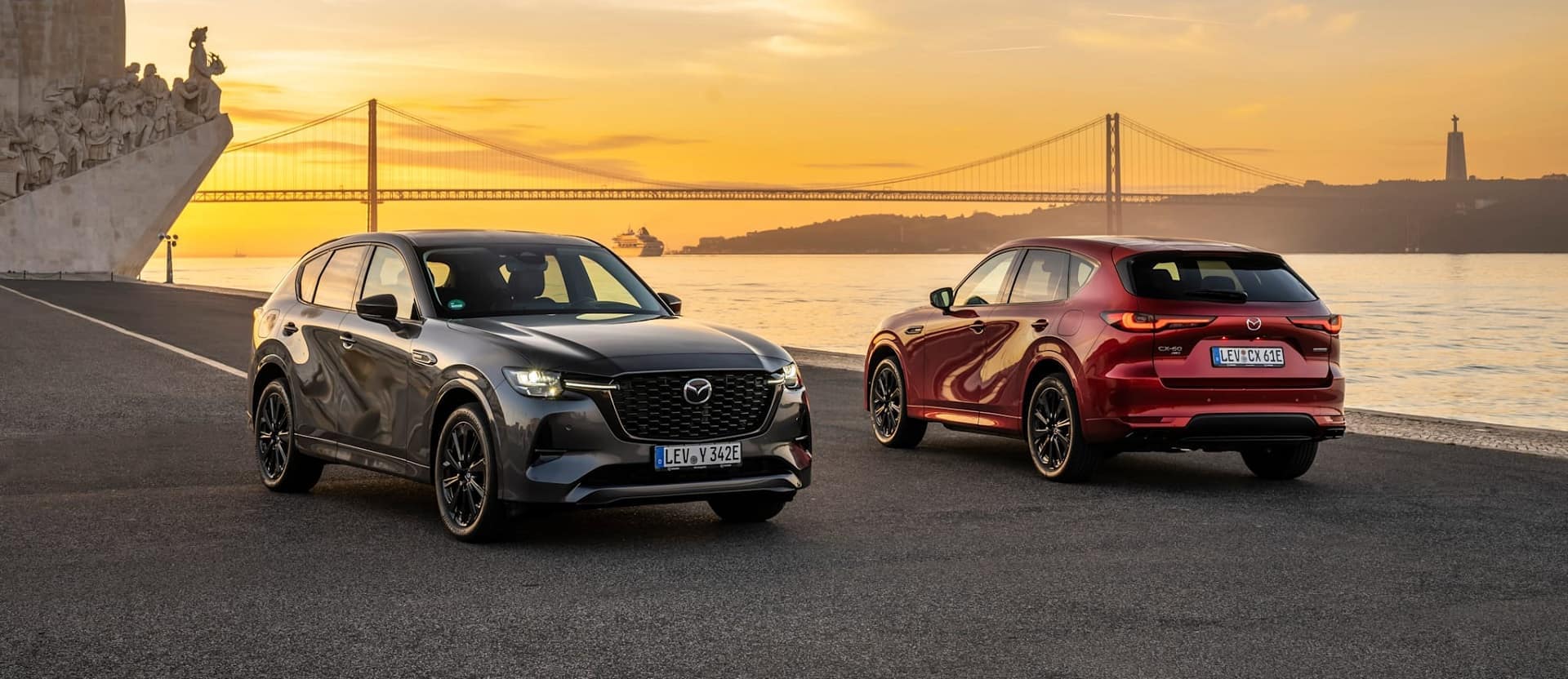 The 2024 Mazda CX-90 vs 2023 Mazda CX-5
With so many quality choices available in the Mazda SUV lineup, it might get difficult making the final decision on your purchase. With the 2024 CX-90 coming out later this spring, some might wonder if they should wait for the all-new luxury CX-90 or stick to Mazda's currently available lineup. In this article, we will go over both the Cx-90 and CX-5, so you can find your perfect Mazda SUV.
Performance and Drivability
Being marketed as a compact SUV, the smaller 2023 Mazda CX-5 naturally has a smaller engine than its bigger CX-90 sibling. Both the CX-5 and CX-90 come with standard AWD and have two engine options, depending on the trim. Details are broken down in the table below:
| Model | Engine | Power | Fuel Economy |
| --- | --- | --- | --- |
| 2024 CX-90 | Turbocharged 3.3-Liter Inline-6 | 280 hp/332 lb?ft | 24/28 mpg |
| 2024 CX-90 | Turbocharged 3.3-Liter Inline-6 | 340 hp/369lb?ft | 23/28 mpg |
| 2023 CX-5 | 2.5-Liter Inline-4 | 187 hp/186 lb?ft | 24/30 mpg |
| 2023 CX-5 | Turbocharged 2.5-Liter Inline-4 | 256  hp/320 lb?ft | 22/27 mpg |
As you can see, the bigger CX-90 has an edge over the CX-5 in regards to pure performance, while the CX-5 excels in fuel economy. Although the CX-5 falls behind in performance, both vehicles are known to be an absolute joy to drive on the road, thanks to their nimble chassis, precise handling, and driver-centric tuning. SUVs are generally stereotyped as clunky machines, prioritizing size over  drivability. With Mazda however, the driving experience always comes first.
Interior and Space
In terms of quality, Mazda is well known to create luxury cars that rival the likes of BMW and Audi. In the case for both vehicles, this devotion to quality is displayed throughout the whole interior. Whereas the CX-90's interior exudes luxury and style, the CX-5's interior is more sporty and aggressive. Both cars enjoy full Nappa leather options, and various premium detailing. In regards to interior space, the 3-row, 8-seater 2024 CX-90 reportedly has a cargo space of 75.2 cubic feet, while the 2-row 5-seater CX-5 enjoys 59.3 cubic feet.
Safety
Regarding safety, the NHTSA has given a 5-star rating to the 2023 Mazda CX-5. Unfortunately, the 2024 Mazda CX-5 hasn't gotten rating as of yet, since the vehicle is still unreleased. However, with Mazda's famous build quality, the CX-90 will most likely receive the same 5-star treatment. In terms of safety technology, both vehicles enjoy Mazda's i-Activsense suite which includes:
Blind Spot Monitoring System
Adaptive Front-Lighting System
Rear Cross Traffic Alert
Lane Departure Warning System
High Beam Control System
Smart City Brake Support
Radar Cruise Control
Forward Obstruction Warning
Smart Brake Support
At the end of the day, both vehicles are perfect for what they are. The smaller and lighter CX-5 offers nimble handling and a punchy engine, with plenty of creature comforts and technology, while the CX-90 offers the same technology but with a  more powerful, sophisticated experience with plentiful space and seating. The 2024 Mazda CX-90 isn't out yet, but we do have plenty of
2023 CX-5
in stock at our Safford Brown Mazda Alexandria! Come in and take a look today.